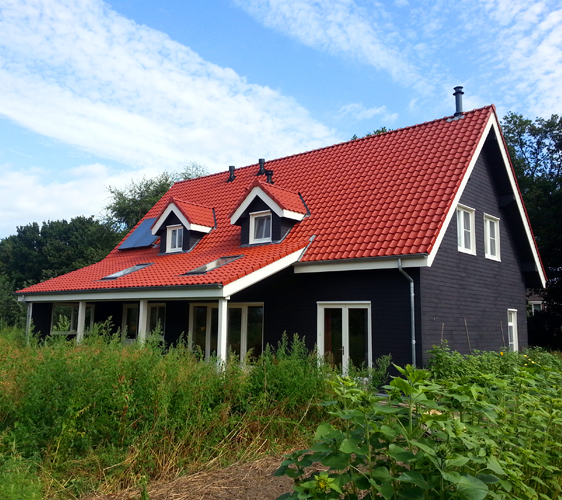 Protection from heat and UV, not only houses (black, burgundy, white).
Netherlands Nature reliably protects wooden houses
Painting wooden facades black seems to have become a tradition in the Netherlands. These examples have one thing in common: "Dit woonhuis is ClimateCoating® Nature toegepast. Na enkele jaren staat er nog in volle pracht bij." (This house was painted with ClimateCoating® Nature. After a few years, it still looks great :).
However, this does not only apply to houses coated with ClimateCoating® Nature in Black, but also to other buildings. The Vechtstromen Water Board (formerly Regge & Dinkel) manages a beautiful nature reserve in Hengelo called Kristalbad. Here, ClimateCoating® Nature was chosen in 2014. After 3 years, the objects are still exceptionally well preserved, as if they had been treated only last month. The wood does not get as hot, which reduces thermal stress. There are therefore hardly any cracks.
This good experience with protection from sun heat and UV has also been made in Assendelft. The houses on the "Red Ring" are exposed to the sun all day. The wood suffers greatly from this. However, ClimateCoating® Nature offers reliable protection.
The house with the wine-red façade was painted with ClimateCoating® Nature and is finished here with ClimateCoating® GlossPlus.
This combination also acts as a UV blocker and also provides a silky gloss finish. With ClimateCoating® Nature, the heat protection of wooden houses is therefore not solely dependent on whether they are painted white or at least light-coloured. Dark shades such as wine red and black are also possible.